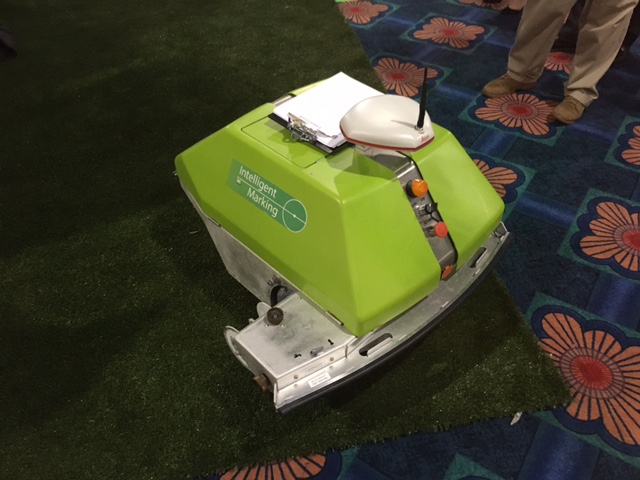 In a better world a sports field managers would have a robot bring them a drink and then paint all of the lines of any sports field you can think of without assistance. Well, for those turf professionals willing to make the investment there's a machine that is on its way to doing one of those things. Bad news, they're still going have to get their own drinks.
The Intelligent One, known as the ION, from Turf Tank is an autonomous athletic field sprayer that allows municipalities, schools districts and colleges to paint sports fields without any operator intervention.
"This device is accurate to 1 cm. I have gone out and done demos for the guys that normally are painting the fields. They are very curious to see how they compare to the ION," says Mercer West, Turf Tank regional distributor. "Most of those managers are doing a great job painting but they realize that they have so many things to do this is simply a reallocation of their talents from something that is mundane but requires time and precision. It's killing two birds with one stone in my opinion."
Currently the ION is programmed to paint a soccer field in 35 minutes and a football field in about two hours. It holds 4.5 gallons of paint and according to West that will cover about three soccer fields and one football field. Turf Tank and its strategic alliance partner Intelligent Marking Ltd are working on programming the device to spray baseball, lacrosse, field hockey, rugby and flag football fields this year.
The device comes with a Samsung Galaxy Active Tab preloaded with the application necessary to operate the ION. According to the company's website, the app has four main components; a dashboard for an operational overview; The Route Planner where the owner can select the type of field they want sprayed; With the Tool Management menu allows the users to manually operate the ION and perform different maintenance functions; and the Robot Status menu gives the current status of the machine.
"A lot of school districts and municipalities have multiple parks or multiple schools. So they want to be able to transport it," says West. "The machine weighs about 125 lbs., and the user can either load it into the back of a truck or they can use the tablet and manually move it up a ramp and onto a trailer."
For those sports turf managers worrying about losing their job to a robot, West adds that they shouldn't be concerned. "We don't want to put anyone out of business. The last thing we want to do is take someone's job."

Grant Gannon is the Associate Editor for
Golfdom
and Athletic Turf. Gannon earned his undergraduate degree at The Ohio State University, where he majored in journalism and was a reporter and copy editor at the college's newspaper,
The Lantern
. He has also interned for CoachFickell.com, the official website for OSU's then-head football coach Luke Fickell, and worked at
The Columbus Dispatch
. He creates content for
Golfdom
's print, digital and social media platforms.