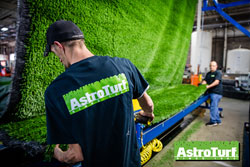 AstroTurf unveiled a new plan to streamline all of its manufacturing operations into a single facility. The move involves the relocation of existing equipment and the purchase of new manufacturing technology, as well as the functional alignment of previously scattered personnel groups.
AstroTurf's Board approved the proposal on Jan. 3, with completion of the project slated for the end of June. Already well under way, the plan represents a major capital investment of several million dollars aimed at operational improvement for the global sports surfacing company.
"This move will bring all of the operations required to produce synthetic turf under one roof," said AstroTurf CEO Heard Smith. "We're going to significantly reduce transportation costs and waste while improving the quality and efficiency of our manufacturing processes."
AstroTurf's new facility, located in Dalton, Ga., measures approximately 375,000 square feet, or roughly the size of seven football fields. It will house the consolidated operations of separate facilities currently located in the Synthetic Turf Resources building in Dalton and the Turfstore and Polytex plants in Calhoun. Additionally a new coater, several new creels, a new industrial computer and a new communications system have all been purchased for the building.
When fully operational, the new manufacturing center will handle masterbatch, extrusion, twisting, tufting and coating. The facility will also include additional space for storing raw materials and finished product.
Photo: AstroTurf