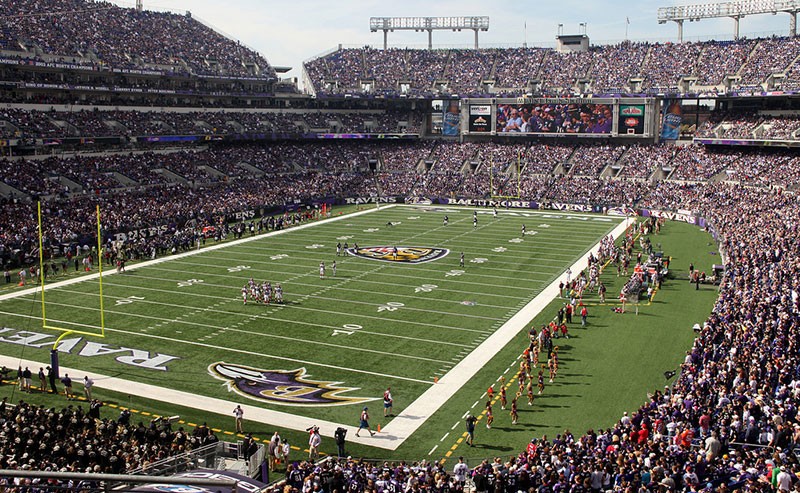 The Baltimore Ravens will switch from artificial turf to natural grass at M&T Bank Stadium for the 2016 NFL season, according to baltimoreravens.com. Dick Cass, the team's president, made the announcement on Dec 4.
"The players really wanted to play on grass, and that was a key consideration," Cass says. "The coaches wanted to play on grass."
M&T Bank Stadium made its debut in 1998 with a natural grass field, but "sunlight restrictions" contributed to poor field conditions. Those sunlight problems were due to daylight savings time, which benefits daytime activities but can cause problems for evening entertainment, such as NFL games. This is the case for M&T Bank Stadium, where sunlight does not reach about a third of the field near the Ravens sideline.
The stadium originally installed a Shaw Sportsexe Momentum artificial turf field in 2003, which was replaced in 2010 to Shaw's Momentum 51 turf.
The article states that offseason research by the Ravens led to the decision to switch to a high quality grass field, along with tradition.
An unnamed sod farm in North Carolina will supply the sod, a mixture of burmudagrass and ryegrass. Artificial light will likely be used on shady areas, possibly like the Stadium Grow Lighting the Green Bay Packers use on Lambeau Field.
"There have been a lot of technological advances with the grass from what I'm told," says John Harbaugh, Ravens' head coach. "Our grounds people have done a great job of researching it, and they feel like they have the type of grass now that can thrive in there."
Player safety also was a factor in the decision, as well as Baltimore history, where many believe a football team should be played on a natural grass field.
Cass says in the article that although M&T Bank Stadium "stacks up well" compared to other NFL artificial fields, data shows there are fewer lower-body injuries when playing on a high-quality natural field compared to artificial. The players also hope it will reduce risk of concussions.
"Last week, I hit my head pretty hard on the grass in Cleveland," says tight end Crockett Gillmore. "I actually saw my facemask print in the grass. If I hit my head that hard on turf, it would have been lights out for a couple days."
Division rivals Pittsburgh and Cleveland both have grass, as well as the two closest NFL teams to Baltimore, Washington and Philadelphia.
When asked if he was the one lobbying for grass, Harbaugh says, "I might have. I like the grass. I think it's the AFC North, it's the Baltimore Ravens – it just seems right."
Photo credit: LostBob Photos via Foter.com / CC BY-NC

Harms is the Digital Media Content Producer for North Coast Media. She completed her undergraduate degree at Ohio University, earning a Bachelor of Science in Journalism and Creative Writing Specialization from the E.W. Scripps School of Journalism. Harms specifically creates content for NCM's
Golfdom
,
GPS World
,
Geospatial Solutions
and
Athletic Turf
digital properties including eNewsletters, social media and websites. She can be reached at
jharms@northcoastmedia.net
.