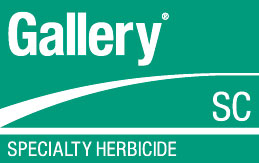 Dow AgroSciences received federal registration for its Gallery SC specialty herbicide. The product will be available in the marketplace this fall.
The liquid formulation provides plant tolerance and long-lasting control of more than 95 species of broadleaf weeds — including chickweed, spurge and oxalis — for six to eight months, depending on environmental conditions.
The suspension concentrated formula reduces rinsing and disposal. Applied at a rate of 1 quart per acre, Gallery SC in the 2-gallon jug will cover 8.25 acres in a single container. It's available in 1-quart and 2-gallon containers.
"We have combined the superior performance you know from Gallery 75DF with a more user-friendly liquid formulation," says Maureen Clark, Dow turf and ornamental product manager.
Gallery SC contains the active ingredient isoxaben, developed by Dow. It can be applied on 714 field-grown and 562 container-grown ornamentals. It bonds tightly with soil particles and has low water solubility, so it won't move out of the weed germination zone. Studies show Gallery SC is stable on the soil surface and stays put, even in heavy rainfall, according to the company.

About the Author: AT Staff