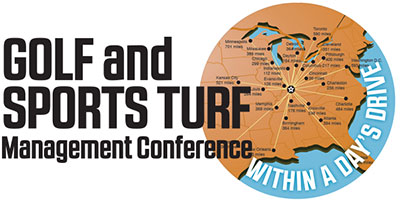 For the second year in a row, golf course superintendents and sports turf professionals will have education opportunities at GIE+EXPO (Green Industry & Equipment Expo). The Golf and Sports Turf Management Conference, hosted by the Kentucky Turfgrass Council, will take place Oct. 19-20 at the Kentucky Exposition Center in Louisville, Ky., during the annual trade show.
"With 900 exhibits – indoors and out – that showcase the newest turf management equipment, lawn and garden products, light construction equipment and UTVs, it's a natural fit for golf course superintendents and sports turf professionals," said Warren Sellers, show director. "Having the conference sessions in conjunction with the tradeshow makes GIE+EXPO their one-stop shop for new products and education."
Sports Turf Sessions
Sponsored by Southern Athletic Fields
Thursday, Oct. 20
1:30 – 5 PM
Oversight and Management of High-End Sports Fields
Dan Bergstrom, CSFM
This session will cover a wide range of topics, including daily maintenance of athletic fields for high-end results, tips and tricks for enhancing fields on low budgets, renovation techniques for grass and skinned areas, and keeping fields in condition for year-round play. A 25+ year veteran of the sports turf industry, speaker Dan Bergstrom has managed grounds crews and playing fields in the NFL, as well as for the University of Kentucky, University of Nebraska and Houston Astros. He is currently at BBVA Compass Stadium, home of the Houston Dynamo MLS Club.
Healthy Soils, Better Sports Fields, Fewer Pesticides
Tom Samples, PhD, UT Extension Turfgrass Specialist
In addition to maintaining nutrient-rich soils, this presentation by Tom Samples will reinforce the importance of soil texture, structure, organic matter, microorganism activity and drainage. Dr. Samples received his PhD in Crop Science from Oklahoma State University in 1985. He is an extension specialist of turfgrass management. His primary interests are production, establishment and maintenance of turfgrass science and management.
Fundamentals of Sports Field Specifications
Laith Ross, PE, LEED AP
Laith Ross will provide valuable insight on ways to enhance your specifications for the construction of a natural grass or synthetic turf sports field. Along with a discussion on the types of bids available for such projects, topics will also include key components for sections of the bid package. Attendees will gain a better understanding of how to write, and or review, sports field specifications for construction projects. A senior principal with RossTarrant Architects, Ross has over 25 years of experience as a consulting engineer specializing in athletic facilities, master planning and site design for educational and recreational clients. His client list includes the University of Kentucky, Georgetown College, Eastern Kentucky University, Morehead State University and numerous other public and private schools.
Sports Turf in the Region – Past, Present and Trends for the Future
Carla Hagan, Eastern Kentucky University
Dr. Greg Munshaw, University of Kentucky
Dr. Paul Woosley, Western Kentucky University
This panel discussion will highlight trends in sports turf based on research, site visits and the panelists' experience in the turf industry. Attendees will have the opportunity to engage in the discussion about a variety of issues regarding the planning and maintenance of sports fields.
Friday, Oct. 21
9 – 11 AM
A pre-session networking breakfast, 7:30 – 9 am, is included with general session fee.
Golf, Sports Turf and Landscape Irrigation Trends – Where things are headed
Bob Scott, PIC ASIC, CID, CLIA
Bob Scott's presentation will cover a variety of irrigation trends in the areas of technology, water resources, green codes and budgeting. Topics will include Cloud-based controls, HDPE pipe, storm water harvesting, water treatment, pumping systems and filtration options, ground water and reuse water development and much more. Scott is founder and president of Irrigation Consultant Services, Inc. The advancement of irrigation water resource development and LEED accredited projects has pushed his techniques for irrigation design and consultation to the forefront of golf and sports turf irrigation projects. ICS was awarded the American Society of Irrigation Consultants award for work on the Cauley Creek Water Reclamation Plant/Atlanta Athletic Club, Belmont Golf Club in Bermuda and other projects. Current projects include Atlanta Athletic Club water resource development, Carolina Panthers Stadium, Atlanta Falcon Stadium, Atlanta United FC Training Grounds and CC of Landfall.
Pre-registration is required for the Golf and Sports Turf Management sessions. The fee for each Thursday session is $99. Friday's session is $89. In addition, participants are invited to upgrade their session registration for $50 to include a networking reception Thursday, 5:30-8 p.m. at The Galt House Hotel prior to GIE+EXPO's free concert at Fourth Street Live! featuring The Crashers. The $50 reception ticket includes networking, hors d'oeuvres and two drink tickets.
Registration for GIE+EXPO is $15 by September 8; $30 September 9 – October 16 and $60 thereafter.