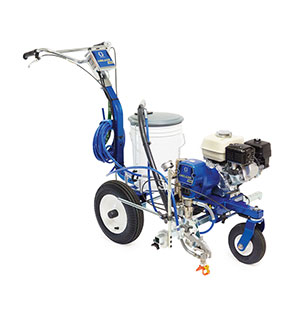 Graco, a manufacturer of fluid handling equipment, launched a new version of its LineLazer 3400 one-gun airless line striper. The new model features upgrades that improve line accuracy, enable the use of productivity-increasing accessories and provide a better overall user experience, the company said in a recent press release.
"We made the best one-gun airless striper even better by making improvements to the LineLazer 3400 chassis," said Mike Vangstad, Graco global product marketing manager for pavement maintenance products. "With these improvements, users will benefit from straighter lines and improved ergonomics. Secondly, the upgraded LineLazer 3400 is compatible with more productivity-increasing accessories, allowing for greater customization."
In addition to a new frame compatible with the 15-gallon paint hopper and the EZ-bead system, the upgraded LineLazer 3400 features the EasyMark Spray Gun Adjustment System for accurate and repeatable gun adjustments. For all-day comfort and greater control, the LineLazer 3400's improved chassis design includes a new contoured ergonomic handle bar system.
Additionally, the Electronic Pressure Control system delivers consistent spray pressure for excellent line quality while the Endurance Paint Pump delivers the industry's best pump life, Graco said.
Photo: Graco