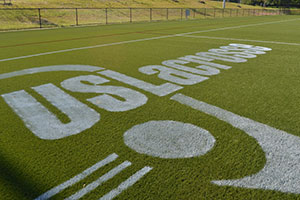 GreenFields installed its MX woven turf and woven Sine pad, along with a TPE holo infill at US Lacrosse's new headquarters and training center in Sparks, Md.
The field is one of the highlights of the new US Lacrosse's headquarters and will serve as home for Team USA and a site for international, college and high school games, as well as youth play, GreenFields said in a recent release.
"We are proud and excited that US Lacrosse chose GreenFields to be its official turf partner," said Danielle Byrd, GreenFields USA marketing manager. "The demand for high-quality, safe and durable playing surfaces for lacrosse in the U.S. has increased significantly over recent years, and we are excited to help US Lacrosse meet this growing demand with some of the most innovative and reliable products in the industry."
The partnership between US Lacrosse and GreenFields USA was announced as US Lacrosse sees record growth in the U.S. After evaluating the different turf products on the market, US Lacrosse came to the conclusion that GreenFields' MX provided the superior technology and safety that is so important in lacrosse's future growth.
Academy Sports Turf, based in Englewood, Colo., was responsible for the installation. With more than 20 years of experience, Academy is one of GreenFields premier install partners.
"Our new field looks beautiful and we're thrilled with the end result," said Susie Chase, vp of Philanthropy and Partnership at US Lacrosse. "We had a number of options to consider for our field and we felt GreenFields provided us the best surface for our national teams program, and for the many teams that will use this facility. It's an innovative company with a quality product."
Paired with TenCate Sine pad below the turf and TPE holo infill, this field exhibits better safety for the players, giving them peace of mind while focusing on the game, the company said.
GreenFields USA is the official turf partner of US Lacrosse.
Photo: GreenFields