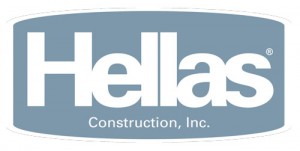 AT&T Stadium, home of the Dallas Cowboys; McLane Stadium, home of the Baylor University football team; Memorial Stadium at the University of California, Berkley and many more all have one thing in common: The Austin, Texas-based company, Hellas Construction had a hand in building them.
Reed J. Seaton, CEO of Hellas, and Bob Allison, operations manager of the Track division, teamed-up to start the company in 2003, and since then the Hellas team has completed more than 2,500 sports projects at the high school, collegiate and professional levels across 46 states.
What started exclusively as a construction company has grown into a one-stop shop when it comes to sports construction.
"We reverse engineered our business model compared to what the industry is used to. It typically has been served by the textile industry that is driving these complicated construction projects where turf amounts to 10 or 12 percent of the overall value," says Seaton. "Our idea was, 'let's be a construction company who constructs these buildings, and if the business grows we'll backward integrate into the manufacturing.'"
The business model worked and now Hellas has the resources to manufacture sports surface products, design and construct facilities, and perform after-the-sale service and maintenance for its clients.
Despite this success, what the company boasts about most is its emphasis on an eco-friendly manufacturing process.
This is achieved by using castor oil, a derivative of crushed beans Hellas directly purchases from India, as the base for its polymers instead of petroleum-based polymers made from crude oil. These polymers are eventually used in the company's running track materials, the backing of its rolls of field turf and the adhesive that fuses the field turf's seams together.
"The real advantage for us is that it's an organic product that has never been cooked, it's never been processed and it's not a byproduct of a refinery," says Seaton. "At the end of the day in the manufacturing process we really generate no contained waste."
The green initiative also extends to Hellas' field turf infill. Its REALFILL infill is made from the traditional crumb rubber, but its supplier provides them with 100 percent recycled rubber.
"Rubber filled turf allows the masses to have a really good playing field," says Seaton. He adds that not all infills are equal.
A better option Seaton mentions is called Geo Plus, a product that Hellas is the exclusive distributor of in North America. Hellas touts Geo Plus as the better option because its all-organic consists of coconut shell materials, rice husk and cork.
Hellas also says the playability is better, the temperature is significantly less, the ball roll is better, shoe traction and release is better, and "you can roll around in it and it doesn't stick to you."
With that superior performance it also requires more of a financial investment and carries a price tag $60,000 higher than the REALFILL infill. That extra cost may not be affordable for most of its clients, but that price has come down over the past two years from $125,000. Seaton adds that they are focused and spending money on research to bring that cost down further.
"We have poured pretty much everything known to man into artificial turf fields to make them play better," says Seaton.

Grant Gannon is the Associate Editor for
Golfdom
and Athletic Turf. Gannon earned his undergraduate degree at The Ohio State University, where he majored in journalism and was a reporter and copy editor at the college's newspaper,
The Lantern
. He has also interned for CoachFickell.com, the official website for OSU's then-head football coach Luke Fickell, and worked at
The Columbus Dispatch
. He creates content for
Golfdom
's print, digital and social media platforms.