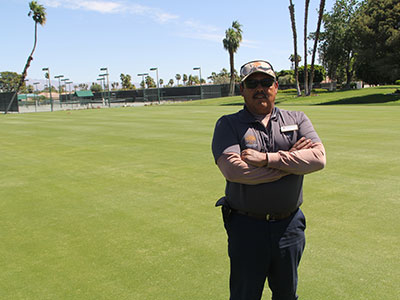 Eleazar Lua has a rare skill: he can tell the subtle difference between a slow croquet court and a fast one.
The supervisor of sports fields at Mission Hills CC in Rancho Mirage, Calif., Lua has been monitoring the numerous croquet courts, tennis courts and horseshoes pits at Mission Hills for the last 13 years. He first started working at the club 30 years ago as a laborer raking bunkers on the club's three 18-hole championship courses.
"I thought I'd be here a couple years, maybe five or ten," Lua says. "But time flies. And I like what I do, that's why I'm still here."
Lua's hard work has led to success for him personally and success for Mission Hills. The United States Croquet Club named Mission Hills Croquet Club of the year in 2010. Mission Hills is also recognized for its tennis, being named United States Tennis Association Facility of the Year winner in 2009. The club offers a total of 34 courts — 20 hard court, 10 grass and four clay. It has twice hosted the Davis Cup.
It was croquet that was on Lua's mind when Athletic Turf paid him a visit. Members would stop him and ask how the courts were rolling. The MacRobertson Shield, an international croquet tournament, was on the horizon and members wanted to be sure the fields were fast and firm.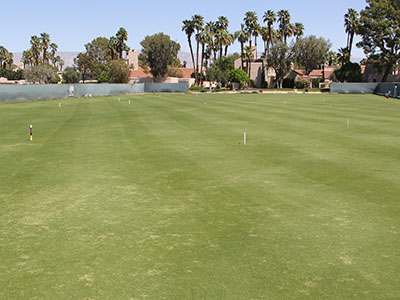 Lua says in many ways he treats the croquet courts the same way as the golf staff treats the putting greens, only a higher height of cut. Speed is also achieved the same way.
"Normally the courts are 8, maybe 8-and-a-half on the Stimpmeter, that's if we're not doing anything special," Lua says. "For the tournament, we'll double-cut it and get it to 10 easy. But they'll want it to get to 11. Then we roll it, cut the water a little bit… that makes a big difference."
Lua does not have a formal turf education, but says that Mission Hills "taught him everything." He did take irrigation courses to learn the finer details of installing irrigation systems. Several of the tennis courts have irrigation systems designed and installed by Lua and his crew of nine.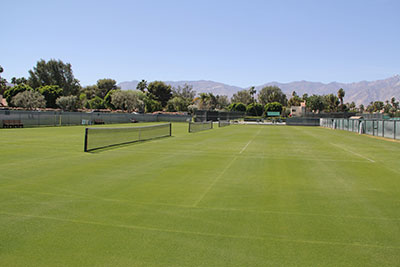 He says that turf diseases are a challenge mostly in the winter, when the Coachella Valley gets a combination of heat and humidity. He overseeds the tennis courts in September — not ideal timing, but necessary because of the busy season for tennis at the club.
The father of five says that of all the jobs he's had at Mission Hills since 1986 — raking bunkers, mowing fairways, irrigation — his job supervising the sports fields is the best.
"There are no bad jobs here, some jobs may be harder than others, but none of them are bad jobs," he says. "As long as you enjoy it, even hard jobs are easy."

Seth Jones, a 16-year veteran of the golf industry media, is Editor-in-Chief of
Golfdom
magazine and Athletic Turf. A graduate of the University of Kansas School of Journalism and Mass Communications, Jones began working for Golf Course Management in 1999 as an intern. In his professional career he has won numerous awards, including a Turf and Ornamental Communicators Association (TOCA) first place general feature writing award for his profile of World Golf Hall of Famer Greg Norman and a TOCA first place photography award for his work covering the aftermath of Hurricane Katrina. In his career, Jones has accumulated an impressive list of interviews, including such names as George H.W. Bush, Samuel L. Jackson, Lance Armstrong and Charles Barkley. Jones has also done in-depth interviews with such golfing luminaries as Norman, Gary Player, Nick Price and Lorena Ochoa, to name only a few. Jones is a member of both the Golf Writers Association of America and the Turf and Ornamental Communicators Association.