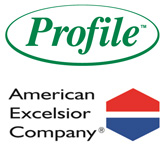 Profile Products, Buffalo Grove, Ill., and American Excelsior, Arlington, Texas, created a partnership within their international sales and marketing units. The partnership provides Profile with a line of erosion control and turf establishment blankets and turf reinforcement mats, while American Excelsior will now have access to Profile's international distribution network.
The companies will collaborate on projects and new product development. The products supplied by American Excelsior will be marketed under Profile's Futerra brand.
Partnering with American Excelsior is a "major win" for both companies and their customers, says John Schoch, CEO and president of Profile.
"We have been evaluating the international market for several years and Profile is a perfect partner for us," says Terry Sadowski, CEO and president of American Excelsior. "Profile has an extensive network of distributors and technical sales people that offer an ideal channel for us to enter the international arena on a large scale."

About the Author: AT Staff