SI.com recently ranked the fields at NFL stadiums. The top 10 fields on the list are ranked below and include each field's turfgrass variety and the names of the sports field managers who maintain them, most of whom are Sports Turf Managers Association (STMA) members.
Andy McNitt, Penn State University's director of its Center for Sports Surface Research, is a member of a team that oversees the NFL Field Certification program. He holds a Ph.D. in soil science from Penn State and also is an STMA member.
"All of our fields today versus 10 years ago are way better," McNitt tells SI.com. "The fields are in much better shape across the board."
The top ten fields ranked by Sports Illustrated:
Click on the images to enlarge them.
1. University of Phoenix Stadium
Arizona Cardinals, Glendale, Ariz.
University of Phoenix Stadium's Tifway 419 bermudagrass is managed by Andy Levy, who also goes by the name "Sod God," according to a tweet from the Arizona Cardinals. University of Phoenix Stadium is home to the first fully retractable natural grass playing field in the U.S., shown above, which lies on top of an AirField Systems drainage system.
---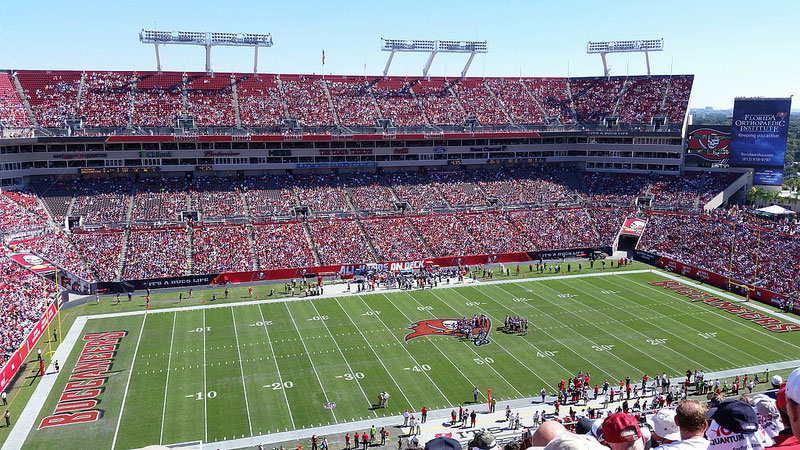 2. Raymond James Stadium
Tampa Bay Buccaneers, Tampa, Fla.
Raymond James Stadium's Tifway 419 bermudagrass is managed by Groundskeeper Rob Julian. The stadium, also known as the "Ray Jay," has rightfully earned its No. 2 spot, even after Aaron Rodgers blamed his late 2014 calf injury on the Bucs' poor field conditions.
---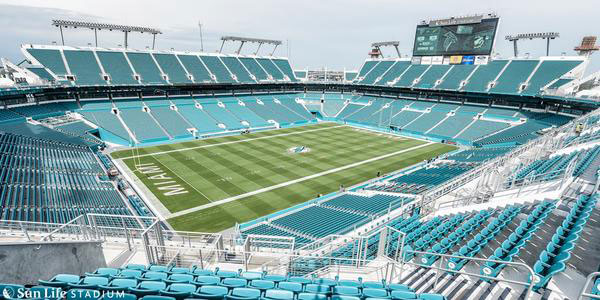 3. Sun Life Stadium
Miami Dolphins, Miami Gardens, Fla.
Sun Life Stadium completed small-scale renovations before the 2015 season. The Tifway 419 bermudagrass field is managed by Thomas Wilson, senior grounds manager for the Miami Dolphins and Sun Life Stadium.
---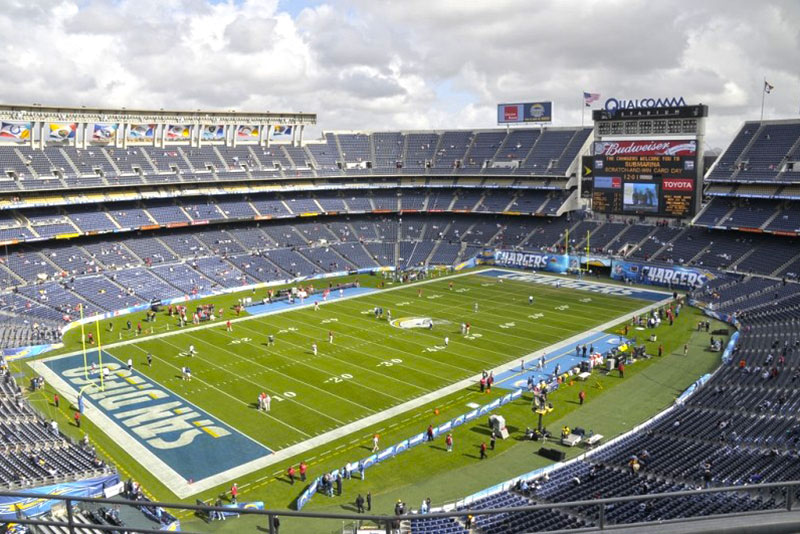 4. Qualcomm Stadium
San Diego Chargers, San Diego, Calif.
The Bandera bermudagrass is managed by Bill Gibbs, stadium turf manager at Qualcomm Stadium.
---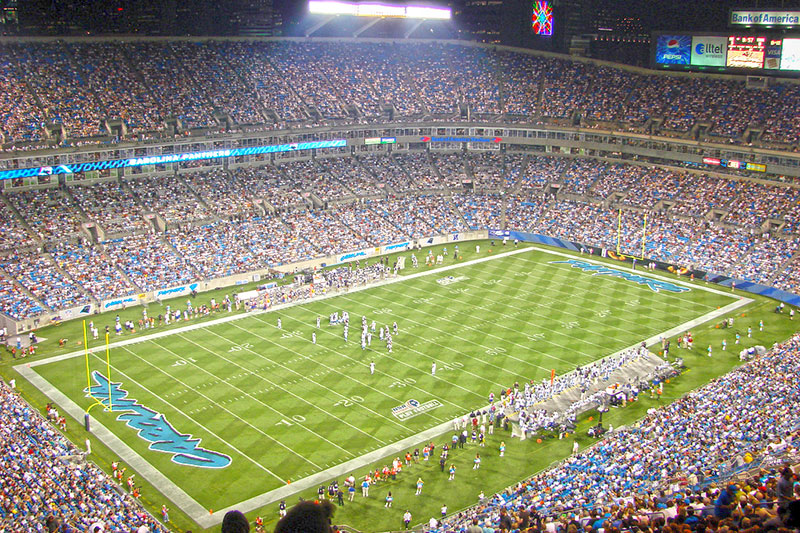 5. Bank of America Stadium
Carolina Panthers, Charlotte, N.C.
Tom Vaughan, head groundskeeper for the Carolina Panthers, manages Bank of America Stadium's Voyager bermudagrass field, which happens to be the only NFL field using Voyager.
---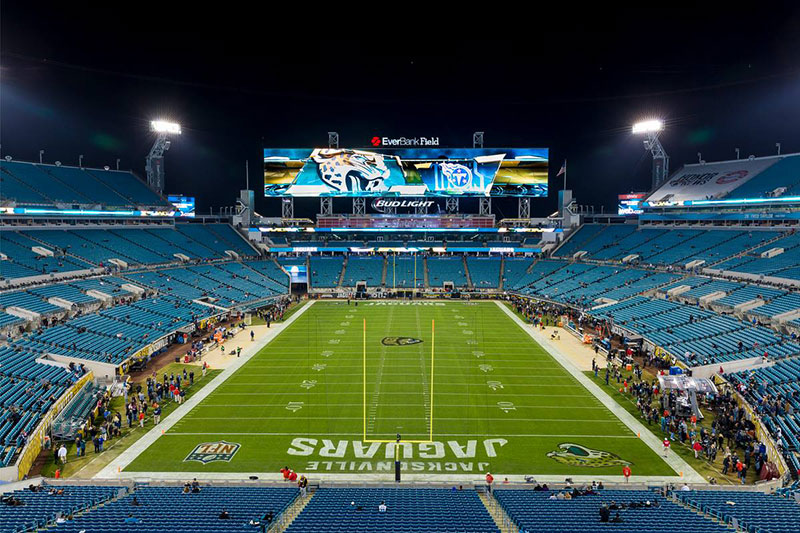 6. EverBank Field
Jacksonville Jaguars, Jacksonville, Fla.
Mark Clay is the sports field and grounds manager at Everbank Field, which features Tifway 419 bermudagrass.
---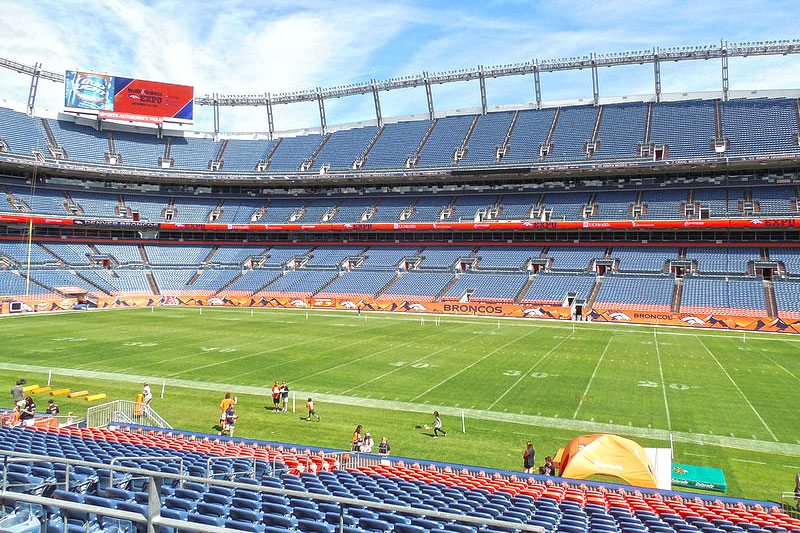 7. Sports Authority Field at Mile High
Denver Broncos, Denver, Colo.
Ross Kurcab is the turf manager for the Denver Broncos, managing the Kentucky bluegrass at Sports Authority Field at Mile High.
---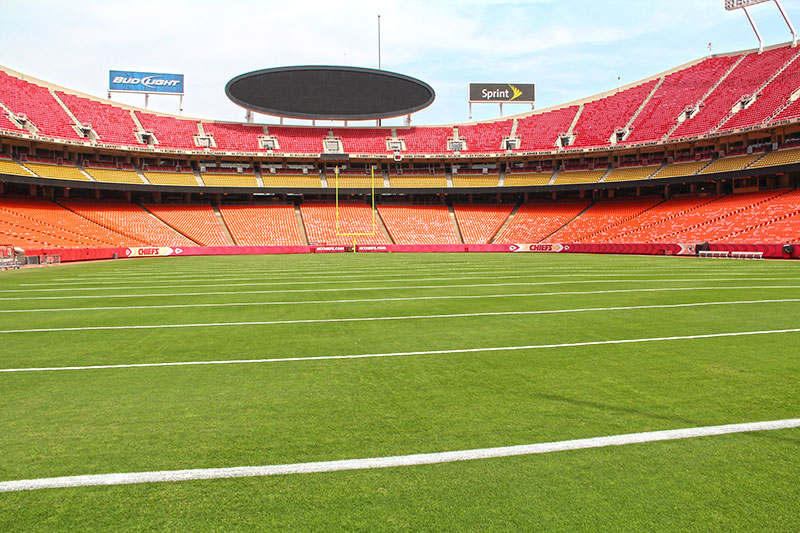 8. Arrowhead Stadium
Kansas City Chiefs, Kansas City, Mo.
Jay Warnick, sports field manager for the Kansas City Chiefs, manages the field's Northbridge bermudagrass.
To watch AT's video interview with Warnick, click here.
---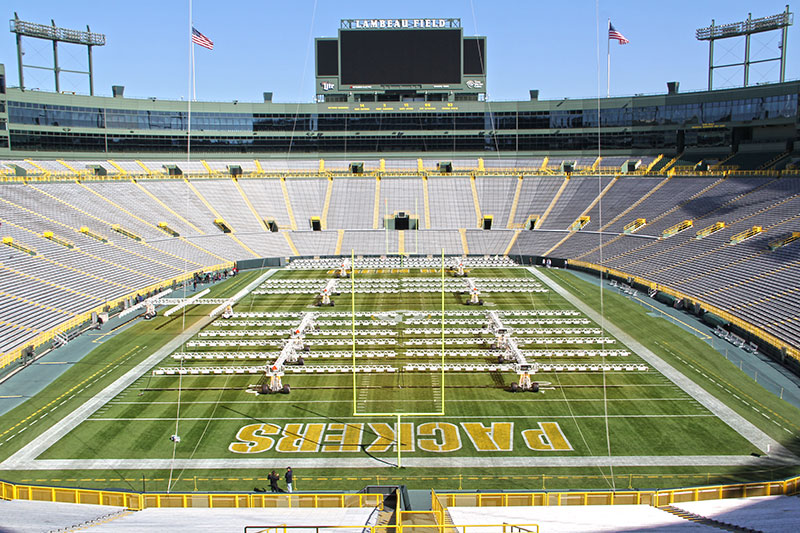 9. Lambeau Field
Green Bay Packers, Green Bay, Wis.
Allen Johnson, CSFM, is the fields manager for the Green Bay Packers and Lambeau Field, and also is the 2015 STMA president. Lambeau Field uses Stadium Grow Lighting, seen above, on its Desso GrassMaster system, which has synthetic fibers woven into the traditional Kentucky bluegrass sod.
To see AT's feature on Johnson as well as a video interview with him, click here.
---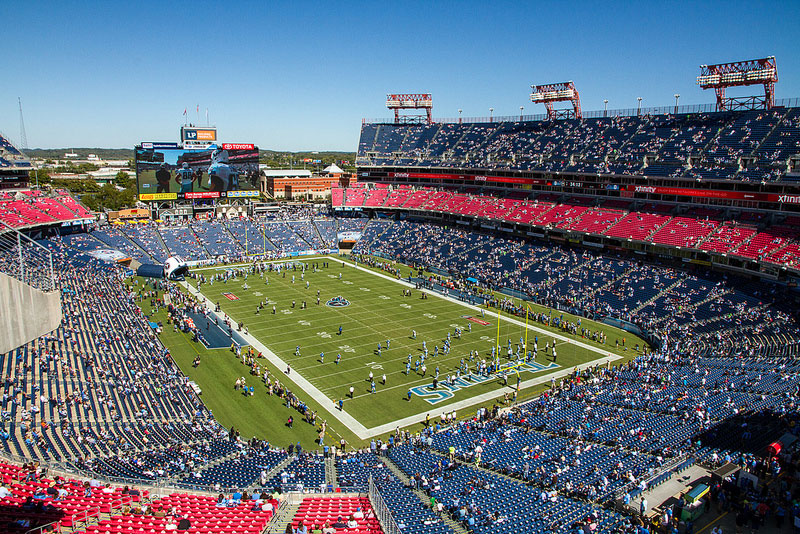 10. Nissan Stadium
Tennessee Titans, Nashville, Tenn.
Terry Porch, Nissan Stadium's head groundskeeper, manages the TifSport bermudagrass field.
---
For the full list visit SI.com.
Photo/video credits: Arizona Cardinals (1) , arctic_whirlwind / Foter / CC BY-ND (2) , Miami Dolphins (3) , SD Dirk / Foter / CC BY (4) , FLC / Foter / CC BY-NC-ND (5) | Jacksonville Jaguars (6) , jimmywayne / Foter / CC BY-NC-ND (7) , Seth Jones (8,9) , w4nd3rl0st (InspiredinDesMoines) / Foter / CC BY-NC-ND (10)

Harms is the Digital Media Content Producer for North Coast Media. She completed her undergraduate degree at Ohio University, earning a Bachelor of Science in Journalism and Creative Writing Specialization from the E.W. Scripps School of Journalism. Harms specifically creates content for NCM's
Golfdom
,
GPS World
,
Geospatial Solutions
and
Athletic Turf
digital properties including eNewsletters, social media and websites. She can be reached at
jharms@northcoastmedia.net
.