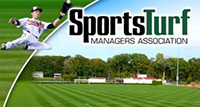 The Sports Turf Managers Association (STMA) hosted its 25th annual Conference & Exhibition in San Antonio with nearly 1,600 attendees and 164 exhibitors from a record eight countries.
The five-day event featured seminars, lectures, general sessions and exhibits from sports turf and environmental science leaders.
STMA's new board of directors were installed at the annual meeting.
"Our annual Conference brings heightened awareness to the sports turf profession and the individuals who provide safe playing surfaces for millions of athletes every day," said David Pinsonneault, newly-elected STMA president and public grounds superintendent for Lexington, Mass. "We hope the educational experiences and best practices shared throughout the week will be implemented in communities across the nation to enhance safety and quality in sports fields."
SAFE, the association's charitable foundation, raised more than $30,000 during the Conference through its golf tournament at The Republic Golf Club, its "Casino Night" and through silent auctions throughout the week.
More than 100 scholars participated in the "Student Challenge Cup," which culminated in a proctored exam on the final day. Attendees also participated in horticultural tours along San Antonio's famed River Walk.

About the Author: AT Staff