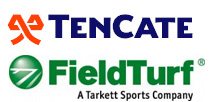 TenCate Grass and FieldTurf, a Tarkett Sports Company, settled lawsuits filed against each other in the federal district court in Atlanta, according to a news release. FieldTurf filed a lawsuit in March of 2011 against certain TenCate companies, which filed counterclaims against FieldTurf.
The disputes between the parties were primarily related to fiber supplies for sports surfaces from Mattex Leisure Industries to FieldTurf initiated in 2003. TenCate acquired the assets related to the artificial grass business from Mattex in 2007. Both lawsuits were resolved by the settlement.
The settlement was reached during the second week of jury trial in the federal district court in Atlanta.

About the Author: AT Staff