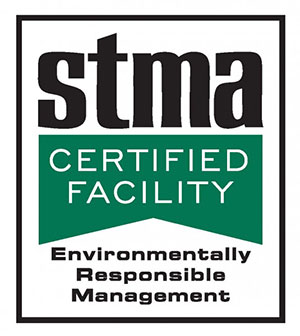 The Sports Turf Managers Association (STMA) rolled out its Environmental Facility Certification Program in June 2016. Since that time 13 facilities have achieved the designation and eight more are up for consideration.
The program involves a written assessment "self-test" that a sports turf manager fills out electronically and submits to STMA. As with its Certified Sports Field Managers' program (CSFM), a passing score is 80 percent on each of its 10 sections. When that is achieved, the sports turf manager arranges to have his or her best management practices validated by an approved attester, who can be an academic in turfgrass management or a CSFM. The attester does a walk through of the facility with the sports turf manager and electronically submits confirmation of the environmental practices.
Facilities certified:
Ciudad Real Madrid (SPAIN) – Paul Burgess, CSFM;
Elon University Athletic Complex (NC) – Scott Stevens, CSFM;
Grinnell College Athletic Fields (IA) – Jason Koester, CGCS;
The Gulfport SportsPlex (MS) – Keair Edwards;
Longfellow Park – Park District of Oak Park (IL) – Travis Stephen;
Minute Maid Park (TX) – Izzy Hinojosa;
Pleasant View Athletic Fields (CO) John Cogdill;
Prairie Ridge Athletic Fields (IA) – Elliott Josephson;
Real Madrid Santiago Bernabeu Stadium (SPAIN) – Paul Burgess, CSFM;
Red Bull Arena (NJ) – Dan Shemesh, Zack Holm;
Red Bull Training Facility (NJ) – Dan Shemesh, Zack Holm;
Ruby Hill Park (CO) – Abby McNeal, CSFM; and
USC Upstate Soccer Complex (SC) – Bruce Suddeth.
Facilities attesting:
Allen Pond Park (MD) – Edward Hall, CSFM;
Championship Field at Seattle University (WA) – Dean Pearson;
Collins Perley Sports & Fitness Center (VT) – David Kimel;
Green Farms Academy (CT) – Tom Barry;
Hibner Soccer and Tennis Complex (NE) – Jared Hertzel, Blake Nelson;
Peoria Sports Complex (AZ) – Alan Siebert, CSFM;
Texas Rangers Baseball Club (TX) – Andrew Powers; and
University of North Carolina Greensboro Athletic Fields (NC) – Peter Ashe, CSFM.