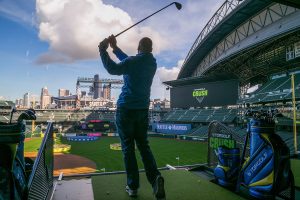 Topgolf will bring its iconic experience to Nissan Stadium, home of the Tennessee Titans, July 20-23.
For the special event, players hit targets ranging from 40 yards to 150 yards away on the field. Topgolf Crush features Topgolf's Toptracer technology that tracks the flight path of the golf balls, scoring every shot so players can challenge others. Open daily from 9 a.m. to midnight, Topgolf Crush will also feature live music, a bar and food trucks.
"Topgolf Crush is bringing the high-tech, fun, social and competitive Topgolf experience to epic venues nationwide, and we're thrilled to make Nashville's Nissan Stadium our next stop, " said Topgolf Chief Marketing Officer Brian Radics. "In true Nashville fashion, Topgolf Crush at Nissan Stadium will feature live music from various local artists throughout the weekend, giving fans a preview of what to expect when Topgolf Nashville opens later this year.
"We're proud that Topgolf has selected Nashville and Nissan Stadium as the next venue for Topgolf Crush," said Tennessee Titans Vice President of Facilities and Game Day Operations Bob Flynn. "This event will be unlike anything else we've hosted at the stadium and it's sure to be an unforgettable experience for Titans fans, music lovers, golfers and festivalgoers."
Topgolf Crush tickets start at $65 for standard 1-day passes, $100 for premium 1-day passes, and $250 for VIP passes. VIP passes include game play, parking, all-day food and beverage inclusions in the exclusive VIP lounge, 4-day festival pass, a Topgolf Lifetime Membership, and $10 off Topgolf game play, redeemable at any Topgolf venue in the U.S., excluding Las Vegas. All ticket types allow all-day access to the event and are on sale now.
Tickets for Topgolf Crush Nashville are now available.
Photo: Topgolf