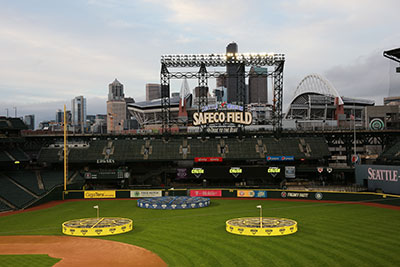 The Topgolf experience is headed to Seattle Mariner's Safeco Field Feb. 17-20.
The limited time event, named Topgolf Crush, is a point-scoring golf game in which players will hit golf balls from the stands into targets in the outfield.
How it will work
Players will hit a golf ball into one of 6 targets ranging from 40 to 150 yards away. Every section of every target has a point value. Topgolf's ProTracer technology computes the player's score based on the accuracy and distance of the shot and then sends the score to the bay screen. Much like a game of darts, the overarching goal is to accumulate as many points as possible by successfully hitting the targets in the outfield.
To learn more about this event, click here.
Get a behind the scenes look at what Safeco Field looks like for the big event.
This slideshow requires JavaScript.
Photos: Topgolf