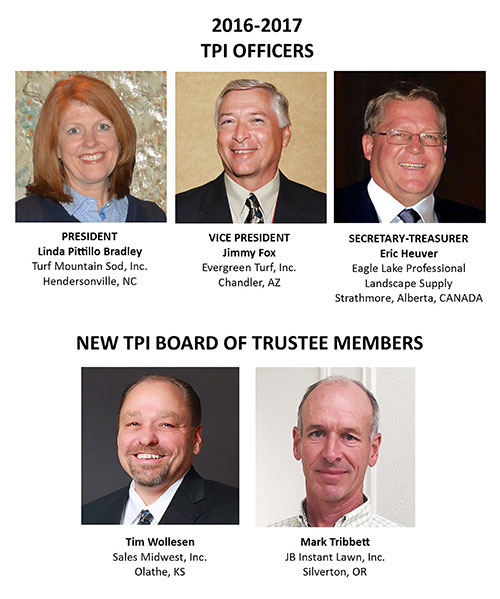 Turfgrass Producers International (TPI) announced its 2016-17 officers and board of directors, effective as of July 1. The officers and new board members were elected during TPI's Annual Business Meeting Feb. 23 at the association's 2016 International Education Conference & Field Day in Houston, TX.
Linda Pittillo Bradley, co-owner of Turf Mountain Sod in Hendersonville, N.C., was elected President; Jimmy Fox, president of Evergreen Turf in Chandler, Ariz., was elected vice president, and Eric Heuver, president of Eagle Lake Professional Landscape Supply in Strathmore, Alberta, CANADA was elected secretary-treasurer.
Also elected to the TPI's board were Tim Wollesen, president/owner of Sales Midwest, Inc. in Olathe, KS, and Mark Tribbett of JB Instant Lawn, Inc. in Silverton, OR.
Continuing their service on the TPI board are:
John Coombs, Sr. Coombs Sod Farms, LLC
Steve Griffen, Saratoga Sod Farm, Inc.
Eric Heuver, Eagle Lake Professional Landscape Supply
Randy Jasperson, Jasperson Sod Farm
Hank Kerfoot, Modern Turf
Will Nugent, (Past President) Bethel Farms
TPI has more than 800 members in 40 countries comprised of turfgrass sod and seed producers, equipment manufacturers and suppliers and various individuals involved in education and/or turf-related research.
Turfgrass Producers International – TPI