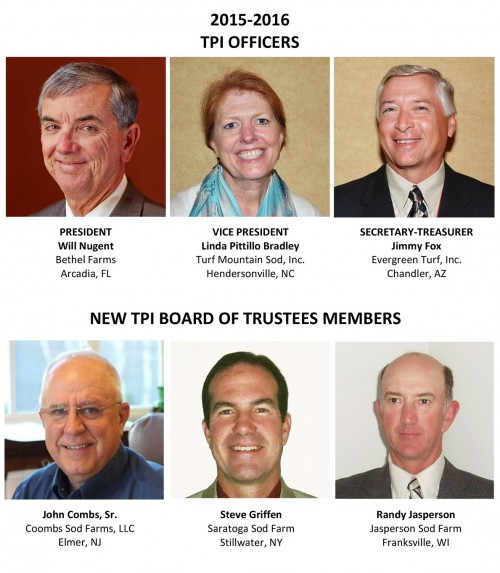 Turfgrass Producers International (TPI) has announced its 2015-16 officers and board of directors, effective as of July 1. The officers and new board members were elected during the TPI's Annual Business Meeting Feb. 17 in San Diego.
Will Nugent, president and CEO of Bethel Farms in Arcadia, Fla., was elected president; Linda Pittillo Bradley, co-owner of Turf Mountain Sod in Hendersonville, N.C., was elected vice president; and Jimmy Fox, president of Evergreen Turf in Chandler, Ariz., was elected secretary-treasurer.
Also elected to the TPI's board were John Coombs, Coombs Sod Farms in Elmer, N.J.; Steve Griffen, Saratoga Sod Farm in Stillwater, N.Y.; and Randy Jasperson of Jasperson Sod Farm in Franksville, Wis.
In his first column in the association's Turf News magazine, Nugent wrote: "I am honored and humbled to have been elected to serve as your president for 2015-16 and look forward to the challenge." He went on to add that TPI has a solid agenda for the coming year and beyond and reported there were several initiatives now taking place that incorporate innovative measures to interact with decision makers at all levels, to correct false perceptions about turfgrass and spread the word about the positive benefits that turfgrass provides.
Continuing their service on the TPI board are:
Hugh Dampney, ECO Turf, England;
Eric Heuver, Eagle Lake Professional Landscape Supply, Canada;
Eddie Keeven, Jr. (Past President) Emerald View Turf Farm, U.S.A.;
Hank Kerfoot, Modern Turf, U.S.A.;
and Ian True, Trebro Manufacturing, Inc. U.S.A..
TPI has more than 800 members in 40 countries comprised of turfgrass sod and seed producers, equipment manufacturers and suppliers and various individuals involved in education and/or turf-related research.
Turfgrass Producers International – TPI