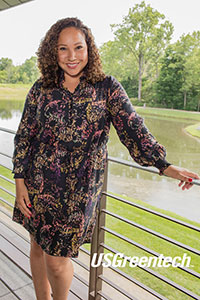 USGreentech, provider of high-performance synthetic turf infills, is expanding its business development team with the addition of Kimberly Williams.
Williams will take the role of Western U.S. Sports System Consultant in response to this market's growing demand for new, synthetic turf infill solutions, the company said in a recent press release.
As the sports system consultant, Williams will support and advise field owners, architects, and contractors on the best combination of infill, turf, and shock pad to meet their individual project needs. In addition, she will ensure an excellent customer experience from project inception to completion.
"Kimberly brings unmatched energy and drive to the team," said Adam Coleman, general manager of USGreentech. "She has the ability to connect easily with people. Her focus on making strong connections and attention to detail will ensure her success in this new role."
She joins USGreentech with more than 15 years of sales and business development experience, including 10 years in management. She comes from the real estate/media industry with a specialization in online advertising. Previously, Williams worked for Enterprise Rent-A-Car. While there, she learned about managing all aspects of the business from sales, marketing, customer relationships, financials and employee development.
Williams grew up in the region she is serving, hailing from Southern California, and attended the University of Arizona where she was a member of the women's volleyball team. In the last five years, Williams has emerged as a dedicated activist for breast cancer awareness and is the co-chair for the Susan G. Komen Los Angeles young women advisory board and co-founded the Komen Young Professionals committee.
Photo: USGreentech