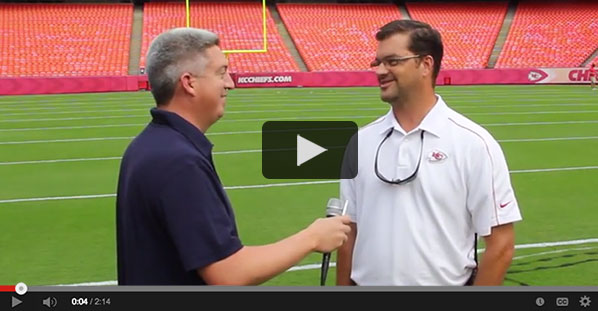 New bermudagrass variety from Oklahoma State does it all for transition zone NFL field.
Some people find sports turf. For others, sports turf finds them.
Jay Warnick, sports field manager for the Kansas City Chiefs, was looking to pursue a career in arboriculture or greenhouse management. Upon graduating from Utah State with a degree in ornamental horticulture, he applied for a job as campus arborist.
"I didn't get the job, but they told me they were starting a new athletics field crew. Before my first day, the head of the crew quit. So right out of school, they offered me the sports turf manager position at Utah State," Warnick says.
Now, after growing sports turf in every time zone in the lower 48, Warnick looks back and couldn't envision it any other way. He's managed turf for the Seattle Seahawks, the Baltimore Ravens and for a year now, the Kansas City Chiefs. He's also worked for the University of Portland in addition to his first job with Utah State.
He says Kansas City is, without a doubt, the toughest place he has ever had to grow grass.
"There's always some type of curveball, either a severe winter, a hot summer, or big (temperature) swings like we saw late last fall," Warnick says. "Those swings — we'd warm up, then bottom out. Adjusting to that was difficult. It was never strong cool season temps, not strong bermudagrass temps. It was truly a transition zone-type year."
Warnick and his team — three full-time, four part-time — are in year two of growing Northbridge bermudagrass from Oklahoma State University at Arrowhead. Warnick says he went with Northbridge because he was "literally looking for it all."
"We're looking for something that was more cold-tolerant. We're looking for something that would give us a few more weeks into the playing season before going into dormancy," he says. "We really were looking for it all — longer growing season in Kansas City but also great recovery, durability and nice color."
Did they get it?
"For all reasons we believe we found what we were looking for," Warnick says. "Now, there are some things we're still trying to figure out, but it's been a good grass for us. It's new to us, it's new to most people, even those who developed it. We're really on the cutting edge of developing this plant, what it likes, what it doesn't like, getting it to recover fast. So we're really happy."
The Kansas City Chiefs open their season on Sept. 7 at home against the Tennessee Titans. For Warnick, looking over tiny blades of Northbridge might seem unlike his first dream of working with trees or in a greenhouse. But he says the crew he works with, and the team he works for, make it all very special.
"I've been in a lot of shops, but I've never come across a crew like this in terms of their experience and dedication to do things well. I've learned a great deal from them," he says. "The (Chiefs) organization is a good organization to work for… close-knit, family-oriented, truly a team organization. I feel included, supported by my mangers, to carry out the vision and to meet coach's and the owners' expectations. It's a great organization to work for."

Seth Jones, a 16-year veteran of the golf industry media, is Editor-in-Chief of
Golfdom
magazine and Athletic Turf. A graduate of the University of Kansas School of Journalism and Mass Communications, Jones began working for Golf Course Management in 1999 as an intern. In his professional career he has won numerous awards, including a Turf and Ornamental Communicators Association (TOCA) first place general feature writing award for his profile of World Golf Hall of Famer Greg Norman and a TOCA first place photography award for his work covering the aftermath of Hurricane Katrina. In his career, Jones has accumulated an impressive list of interviews, including such names as George H.W. Bush, Samuel L. Jackson, Lance Armstrong and Charles Barkley. Jones has also done in-depth interviews with such golfing luminaries as Norman, Gary Player, Nick Price and Lorena Ochoa, to name only a few. Jones is a member of both the Golf Writers Association of America and the Turf and Ornamental Communicators Association.