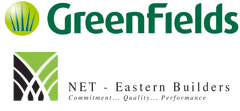 Mini Fenway Park chose FIFA Preferred Producer GreenFields' TenCate turf system for its field in Quincy, Maine, to be installed by  NET – Eastern Builders. Work began on the Fenway Park replica project in late April and is scheduled to be completed and ready for use in time for the field's dedication to children on June 21.
"We based our decision on the proven experience and reputation of the NET-Eastern group," says Ken Walsh, director of Mini Fenway Park.
The NET merger with Eastern Builders led to their partnership with GreenFields. TenCate, a GreenFields shareholder, is a fiber manufacturer.
GreenFields recently announced its entry into the U.S. market and has 3,000 field installations worldwide, 231 of those being FIFA-endorsed soccer fields.
"We are proud that every continent in the world now has access to the technological innovations and sustainable solutions of GreenFields for a wide variety of sports," says Hugo de Vries, business development director of GreenFields.
Photo: GreenFields

About the Author: AT Staff