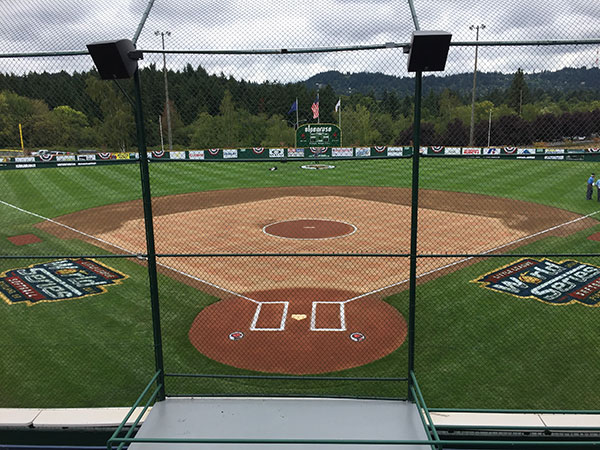 To go home with the championship trophy, teams in the Little League Softball World Series have to win seven games over an eight-day period against the world's toughest competitors from Canada, Latin America, Asia, Africa, Europe, and all 50 U.S. states. Mike Hebrard, owner of Oregon-based Athletic Field Design (AFD), knows that nothing about the field preparation for this annual worldwide event can be ordinary.
"The girls competing in this series deserve the best field we can provide. What's more, it's broadcast to a global network cable audience," said Hebrard. "It's one of our biggest challenges in terms of quality, creativity and performance. That's why we work with Turface Athletics."
Every year, Hebrard and his prep team descend on Alpenrose Stadium in Portland, Oregon to prepare it for the series. After removing the infield grass, the team skins and manicures the surface, then follows with applications of Turface Athletics' Pro League Infield Conditioner. Pro League's calcined clay particles provide a uniform surface that minimizes the potential for injury from sliding and diving as well as bad hops. It also absorbs moisture exceptionally well to reduce rainouts. But according to Hebrard, the advantages of Pro League go even further.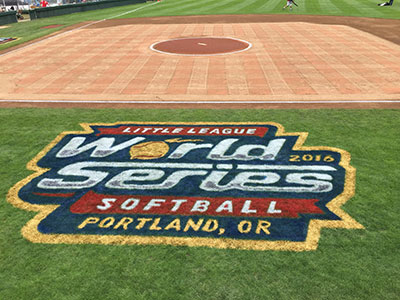 "Our goal is to make the diamond really special for the players, the fans, and the TV cameras, so we make use of Pro League colors. We use Pro League Champion Brown outside the baselines and Pro League Red in the batter's box, pitcher's mound and on-deck circles, which shows up well on television," he notes. "Of course it's the infield that gets the most attention."
To give the infield visual interest, the AFD team echoes the cross-hatched pattern mowed into the outfield grass by applying a combination of two other Pro League colors—Natural and Heritage Red—inside the baselines, in a subtle cross-hatch. The result is a festive and highly attractive diamond that also performs at the level the players, coaches, umpires and sponsors expect.
"I've been using Turface Pro League for more than 20 years. Its consistent color, particle size, and moisture absorbency are the best in the business," commented Hebrard. "During the Series, four games a day are played at Alpenrose. We have to have a product we can depend on."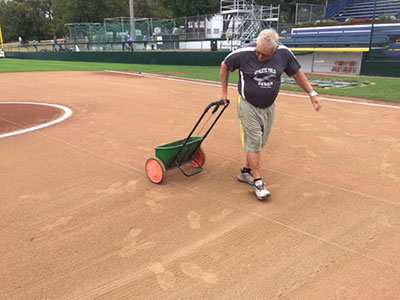 Because of the heavy competition schedule—games are played at 10 AM, 1 PM, 4 PM, and 7 PM—there are times when AFD has only minutes to fix the field between games. "One time we had just 12 minutes," Hebrard recalled. "We know as soon as we detail the overall design and wet down the infield, it will be packed and ready to play again."
Jeff Langner, business manager for the sports, golf and landscape division of Profile Products, Turface Athletics' parent company, says Athletic Field Design is an innovator in the use of materials to add interest and a festive atmosphere at athletic fields of all types.
"What Mike Hebrard and his staff are doing is unique. No one else creates this kind of infield design work. The visual 'pop' is exceptional and it offers a singular backdrop to the action," Langner states. "The time and effort Athletic Field Design puts in, produces results that are very special. It's a big reason why the Little League World Series organization looks forward to coming to this facility each year for its most important softball tournament."
The work of the AFD team has helped to spread the hottest trend in athletic field preparation—using materials like Pro League to create distinctive, proprietary and attention-getting field designs. As Hebrard points out, the pursuit of creativity is a way for groundskeepers to add value—and to keep customers coming back.
"To us there is no such thing as a 'perfect' field. We're very detailed in our approach and we're always looking for something new," stated Hebrard. "We're never satisfied—and I guess that's a good thing."
Photos: Matt Bevenour