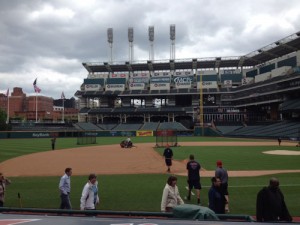 Progressive Field, home of the Cleveland Indians, received some renovations during the off-season. Among the changes was adding a two-tier bar near the right field and the removal and addition of seats in different sections. Athletic Turf was given the chance to tour the facilities on the afternoon before a home game against the St. Louis Cardinals.
This slideshow requires JavaScript.

Grant Gannon is the Associate Editor for
Golfdom
and Athletic Turf. Gannon earned his undergraduate degree at The Ohio State University, where he majored in journalism and was a reporter and copy editor at the college's newspaper,
The Lantern
. He has also interned for CoachFickell.com, the official website for OSU's then-head football coach Luke Fickell, and worked at
The Columbus Dispatch
. He creates content for
Golfdom
's print, digital and social media platforms.