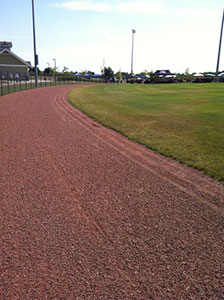 Turface Athletics has introduced in a news release a new line of warning track aggregates, TrackPro.
Turface TrackPro is available in three color choices and various particle sizes. The blended aggregates are designed to enhance safety and performance, provide superior drainage and a firm surface and minimize the risk of compaction, the company said.
"Turface conditioners have long been the choice of professional groundskeepers," says Jeff Langner, brand manager for Turface Athletics. "With TrackPro, we're expanding beyond the infield to offer groundskeepers an effective solution for a safe and attractive surface on the warning track.
Economy grade TrackPro features durable, uniform particles that provide a firm, stable foundation with minimal dust, says Turface. TrackPro Professional Grade is more finely screened to remove coarse particles, for superior footing and playability, with optimum drainage. Both economy and professional grade TrackPro are available in Crimson, Red and Gold.

About the Author: AT Staff