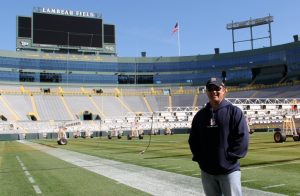 It's been 18 years now that Allen Johnson, fields manager for the Green Bay Packers and Lambeau Field, has been maintaining the hallowed grounds so often referred to as 'the frozen tundra.'
But how did Johnson, who spent four years in the U.S. Army and then received a bachelor's degree in public administration from Northern Michigan University, end up where he is today?
Easy. He ran.
"Like a lot of college graduates, I didn't end up in my career field. Eventually I took the first job I could get — a job with a health insurance company here in Green Bay," he says. "I didn't like it, it didn't suit me very well. I was unhappy and eagerly trying to find something else. So at lunch, I'd run to the job employment office."
That's where he found a non-descriptive job posting for temporary construction work. The ad advised interested applicants to seek out Steve in the Lambeau Field parking lot.
"It was outside and it was $1 or $2 more than I was then making… I saw a little more money and outside work and I was there," Johnson recalls. "I came out after work, met the fella, we hit it off. Turns out they built golf courses and sports fields all over the country. Before that moment, I didn't even know that was an industry — how would I know?"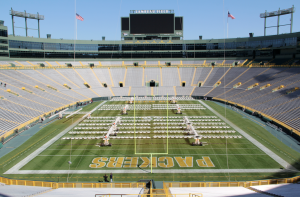 Steve and Johnson hit it off, and the next day Johnson quit his job. He began working on a renovation of the stadium as "the kid with the shovel in his hand" and quickly moved up to operating equipment. "I was eager to learn, and grew up on farm equipment," Johnson adds.
Johnson knew his job was going to end after the summer, and began seeking other opportunities. But he was hired as the assistant field manager before the summer ended. Two years later his boss moved to a different role in the organization, and the former health insurance company employee was now the fields manager for Lambeau Field.
"At that point, I felt I needed further education, so I took Penn State's program for turfgrass online. (But) much of my learning has also been through peer interaction through my involvement with the Sports Turf Managers Association and through my NFL peers," Johnson says.
Now, 18 years later, Johnson remains modest when asked about the significance of caring for Lambeau Field. When asked if it's the most famous football field in the sport, his response is that it depends if you're a Packers fan.
Regardless, he takes pride in his work, and keeping Lambeau Field looking its best every day.
"To me, it wouldn't matter where I ended up," he says, "I take a lot of pride in everything I do."
View a video interview with Johnson, which includes a discussion of his use of Stadium Grow Lights.

Seth Jones, a 16-year veteran of the golf industry media, is Editor-in-Chief of
Golfdom
magazine and Athletic Turf. A graduate of the University of Kansas School of Journalism and Mass Communications, Jones began working for Golf Course Management in 1999 as an intern. In his professional career he has won numerous awards, including a Turf and Ornamental Communicators Association (TOCA) first place general feature writing award for his profile of World Golf Hall of Famer Greg Norman and a TOCA first place photography award for his work covering the aftermath of Hurricane Katrina. In his career, Jones has accumulated an impressive list of interviews, including such names as George H.W. Bush, Samuel L. Jackson, Lance Armstrong and Charles Barkley. Jones has also done in-depth interviews with such golfing luminaries as Norman, Gary Player, Nick Price and Lorena Ochoa, to name only a few. Jones is a member of both the Golf Writers Association of America and the Turf and Ornamental Communicators Association.