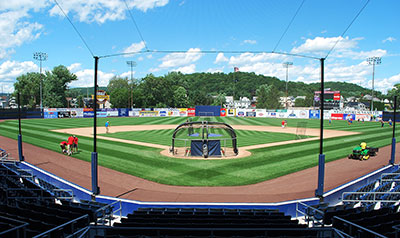 MLB partnered with BrightView, a national landscape services and snow removal company, to renovate Bowman Field, the second oldest minor league ballpark in the U.S., in preparation to host the MLB Little League Classic Game between the Pittsburgh Pirates and the St. Louis Cardinals Aug. 20, during the Little League World Series.
BrightView Design Group designed the new field, and BrightView's Sports Turf and Development teams completed the project, which began on March 1. Beginning with a full survey of the field to improve grade and field conditions, the BrightView team had to remove 1.5 feet of material from the field.
"We started by installing a new drainage system and irrigation, then four inches of pea gravel and the root-zone level of the playing surface, followed by four inches of infield clay mix," said Dennis Winkler, general superintendent of construction at BrightView Landscape Development. "We faced some initial challenges getting the new material to subgrade due to the weather."
Located in Williamsport, Pa., the field required 6,000 tons of sand and root-zone material. A laser hooked up to a tractor operating a box blade brought the surface to within ¼ inch of the finished grade and new infield and outfield sod to meet MLB standards. Going forward, the company will oversee the installation of foul poles, bull pens, batting cages and a backstop.
"We use a surveyor to identify foul pole locations, the first and third base lines and the exact locations and heights of the pitching rubber and home plate," said Kevin Moses, account manager at BrightView Sports Turf. "The entire field is constructed from home plate with the pitching rubber set exactly 10 inches higher, which we installed to a tolerance of 1/100th of an inch."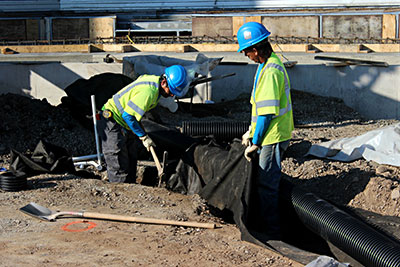 The Williamsport Crosscutters, which is the field's home team, played its home opener on its newly renovated field on June 20. BrightView will continue to maintain the field through the MLB Little League Classic game.
This is not the first time the MLB and BrightView have collaborated. The pair also worked on projects leading up to games at Ft. Bragg in North Carolina and in Cuba.
"We've worked with Major League Baseball for several years on fields around the world and we're honored to work on this project in Williamsport," said Murray Cook, President of BrightView Sports Turf. "The Crosscutters and our other partners onsite have been great and we can't wait for game day."
Photos: BrightView